Meet the Blacks is a nightmare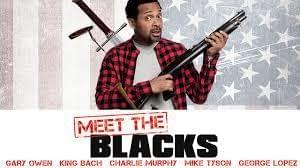 There is nothing good about Meet the Blacks.
The film (90 minutes and rated R) featured a grotesque over-reliance on racist jokes and foul language, which seem to be a byproduct of lazy writing. The runtime is torture, and most of the film's few laughs were achieved through sheer shock value and suggest that the average American moviegoer will laugh at anything.
Meet director Deon Taylor missed the mark on a film that will probably only last a few days after opening weekend. It's that horrible.
Meet is a parody of the 2008 film The Purge, which examines what America would be like if there were an annual night when all crime was legal for 12 hours. This time we get the story of  Carl Black (Mike Epps), a wiring company owner from the slums of Chicago who steals millions of dollars and several baggies full of pot from Key Flo (Charlie Murphy), a client who winds up going to prison on unrelated charges.
After stealing the money and the pot, Black moves his new wife Lorena (Zulay Henao) and family to Beverly Hills to avoid not only the purge, but also  Key Flo's wrath when he gets out of prison. In a failed attempt at comedy, the Blacks were an inaccurate and racist portrayal of a black family from Chicago.
There are problems with the plot, but what really sinks Meet is that all the characters are over-the-top stereotypes. Carl Black is a single deadbeat dad who is constantly running from debt collectors and drives an old Ford Crown Victoria with oversized chrome rims. Whites and Hispanics are also stereotyped, too. Every white character is either a member of the Ku Klux Klan or independently wealthy.   
The film is also often mind-numbingly absurd, the best example being the asinine and incomprehensible family argument that breaks out when Carl and Lorena find out that their teenage daughter Allie (Bresha Webb) is the "side girl" of a thug named Freezee (Andrew Bachelor).
But for all these missteps, the film still had the potential to be funny, and it just isn't.
The fact that this poor excuse for a film ever even got made and released is astonishing.
If you're drunk, high or simply enjoy over-the-top racist films full of plot holes and lazy writing, then you might enjoy Meet the Blacks. If you value brain cells, however, the film is not worth your time.
Leave a Comment